Our Goal Is To Heal, Not To Refill.®
At Keystone Specialty Pharmacy, restoring your quality of health is our most important concern. Working closely with health care providers, we offer medications customized just for you. We define our success by positive outcomes, not prescription refills.
Clinical Value. Business Ethics. Professional Consultation.
Keystone Specialty Pharmacy is nationally accredited for compliance with United States Pharmacopeia 795 standards, specializing in compounded medications, including anti-infectives. Our business growth has been driven by innovative delivery systems and personalized medications that are based on both broad antimicrobial strategies and specific lab reports.
Located in Madison, Mississippi, we offer a wide range of therapeutic options, including topical gels, ointments, powders, creams and irrigation. Our experienced staff has the knowledge and expertise to provide the guidance, support and best recommendations based on each patient's individual needs.
Several national accreditations
In-network with most major insurance plans
Personalized medications based on each patient's specific needs
No automatic refills
Home delivery
Professional patient consultations provided before and after the medication is delivered
We Celebrate Healing
At Keystone Specialty Pharmacy, we celebrate healing with a special tradition. Every time one of our representatives hears good news about patient healing, especially when that healing has dramatically improved quality of life, we respond by ringing a bell in our office. Each time the bell rings, it reminds our staff of our most important mission – working closely together with health care providers and patients to heal wounds and improve lives.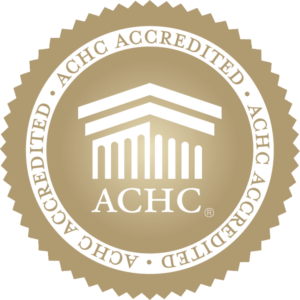 Keystone Medical Supplies is accredited by Accreditation Commission for Health Care (ACHC) for compliance with a comprehensive set of national standards for the following accreditations:  Specialty Pharmacy, Pharmacy Mail Services, and Durable Medical Equipment (DME). By choosing a healthcare provider that has achieved ACHC accreditation, you can take comfort in knowing that you will receive the highest quality care. If you have any concerns about the product or service that you receive from Keystone Specialty Pharmacy, you may contact ACHC directly at 855-937-2242.
Keystone Specialty Pharmacy is accredited by the National Association of Boards of Pharmacy ( NABP).